C O M P A T A B I L I T Y
WHY a ROAMPROOF BATTERY INSTEAD OF A CHEAP AMAZON BATTERY?
Theirs vs. ours is like an iPhone screen (you know the pain) vs. bulletproof glass. Literally every piece inside our powerstation is "the more expensive option" because that's how we differentiate ourselves. They're cutting quality to save you cash, and we're increasing quality every single production run. Amazon batteries will break/malfunction if you drop them from your hip onto concrete - that's actually what happened to our founder when he was inspired to build a better battery and start RoamProof.
CAN I BRING the pwr27 onto an airplane?
Yes. The PWR27 has a 99wh capacity, just under the TSA approval limit of 100wh. This is a USA standard only, but applies to almost all countries that require passport-only entry. For regulations specific to other countries, check information provided by their respective travel security agency.
WHat accessories does the PWR27 ship with?
Each PWR27 comes in a package international 45w wall adaptor (includes USA, UK, AU, EU plug heads) and 1x compatible usb-c charging cable.
What kind of warranty do you offer?
RoamProof offers a limited manufacturers warranty. This means we area liable for all defects that are a clear fault of the manufacturing process, during the first year of use. However, we've built our speakers to last well beyond that.
Where can i find a product manual?
We ship our products with very limited information. All use and information can be found on our website. Select "Use & Care" on the main menu, or simply click here.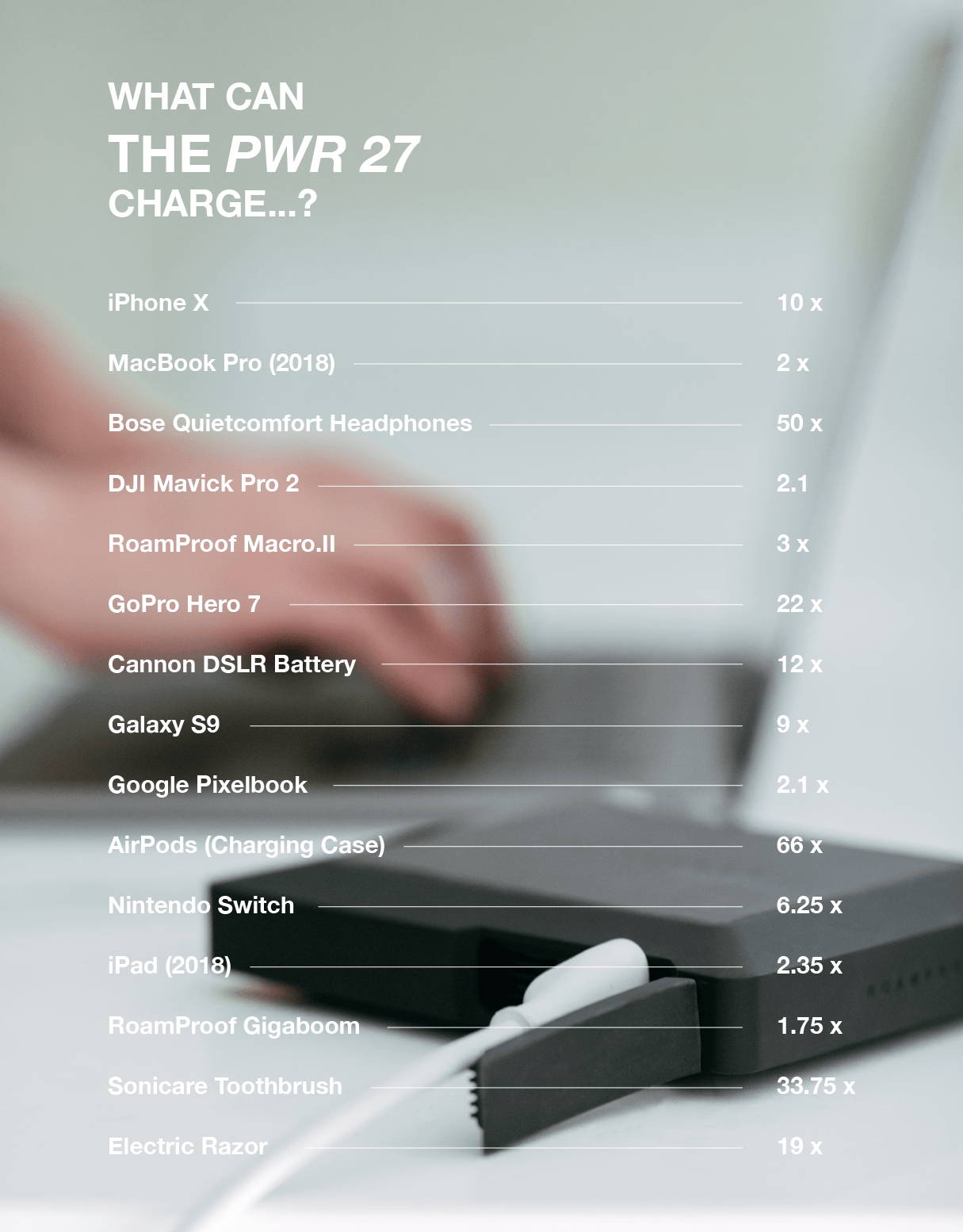 OUR MOST RUGGED PRODUCT TO DATE
IP67 Dust/Waterproof (30 min @ 1M)

Crushproof (2 tons)

DropProof (50/1000 ft - cement/sand)

TPU Double-Shot Injection Molded Body
Screw-tight enclosure (vs weak plastic press snaps)
2 lbs (0.9 kg)
6.7 x 5.7 x 1.37 in (17 x 14.5 x 7.5 cm)

Largest TSA approved battery (99wh)

4 Outputs - for laptops, cameras, phones, drones, etc

1x AC 120V 3-prong outlet, 1x USB-C 45w PD in/out, 2x USB-A out

USB-C 45w PD input . full charge time 2.5 hours
1000+ charge cycles . ultra-stable cylindrical LG cells